hey whats up guys?! So as you probably know I'm vegan and prefer to eat a raw vegan diet… that doesn't always happen as I get weak for food like most of you. But, I never eat meat or anything but there are still plenty of unhealthy, and yummy tasting bad vegan foods around…
I did a 30 hour fast the other day *it wasn't fun or easy as I had No food and only very little to drink* What I discovered doing that is pretty amazing, but it was able to help get me back on track for eating mostly raw… So I thought it would be fun to do a 7 day vegan challenge like Ralph Smart / Infinite waters encourages and use Markus Rothkranz raw vegan cookbook.
The thing about raw vegan food: Unless you have experienced raw plant based food in your system, and only raw plant based food – you can never know how *magical* it really is… I say magical because if you are like I used to be before I went raw vegan, you wont have any any idea how you're REALLY supposed to feel, how good you can actually feel. Because we have been taught to eat dead/cooked food all our lives. Its worse than that actually because most food has sweetners, and preservatives in it too.
Anyway raw vegan food causes you to eat wayyy less because its alive, and makes you full much faster. Thats not even the cool part – the cool part is how GOOD you feel, and then you realize… hey, where is that gross feeling of food sitting in the bottom of my stomach? Its really an entirely different experience. Sorry but you cant get the experience having some raw food and some bad food… you need a clean system.
Okay so Im going to use Markus Rothkranz raw vegan cookbook and do 7 videos, 7 days in a row with a raw vegan recipe you can follow and have with me. Could be fun!?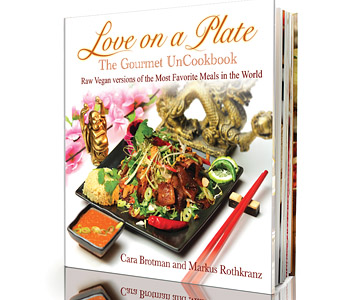 you're going to have to figure out what else you can eat as I'm only doing one thing to eat that day but it should be easy enough to do… just check out my YT videos for other vegan food I make. or find recipes online.
I would prefer anyone doing the 7 day raw vegan challenge with me, to eat ONLY vegan for the whole 7 days. Id prefer raw the whole 7 days but thats asking a lot for new vegans or those who want to test the waters… so one raw meal a day and then other vegan foods are great too. Just be vegan for the whole 7 days!!
About the products I'm promoting… I actually buy all the products I promote and only recently found out they have an affiliate program – truthfully, I found out AFTER I already tweeted about doing this 7 day challenge with Markus' cookbook.
I paid nearly $100 for this under $30 cookbook. I paid extra for fast shipping to Canada soooo, just know this is my real lifestyle, and not just a pitch for affiliate sales. Im already financially okay from other things I'm involved in… MindyWorld is my fun, my real life, and not just a business.
Check out the video below. Its a video from a year ago before I even had Mindy World as an idea, and I am using the cookbook there in another video.
7 Day Vegan Challenge with Markus Rothkranz Raw Vegan Cookbook Coming Soon! 🙂
Henckel knives as seen in the video above: $229 https://amzn.to/2t0Tq1f
Food processor as seen in the video above: $29 https://amzn.to/2WtGlLv